Purpose of the Research Article Review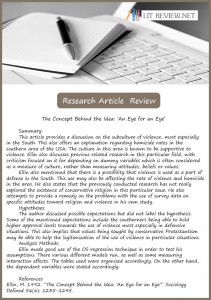 A research article review is a brief summary and evaluation of a research article that gives an overall view of what the article is about, and an evaluation of the articles contribution to the subject field.
Research article reviews are useful for selecting articles as the reader can quickly determine if the article is what they need without reading the entire research article reviewed. Moreover, you may learn more about critical literature review on our site.
Research Article Review Examples
By reading a research article review example, you can get ideas on how to write your own research article. The following is a short example of a research article review:
"Stanley Mead was an Australian philosopher whose 1949 essay tried to define the concept of "feelings". Psychology and psychiatry had increased in popularity but the elements of what make up emotions and feelings had not been defined nor was there much research being done in that area. Mead proposed that feelings are characterized by various bodily or mental sensations.

In the first section of this article, Mead identified six distinct conceptions of "feelings." He began with the common definition of feelings as sensory perception, but he distinguished between instinctual bodily responses that can't be controlled (feeling cold or feeling an itch) and intentional actions to find something out about an object (feeling water with a finger to figure out its temperature). Mead also distinguished between feeling bodily sensations and those he considered "mental" sensations, such as sleepy, ill, wide-awake, uneasy, or depressed.

Mead expanded upon the various definitions of "feelings" he advanced in the second and final section of this paper, discussing where the line blurred between each one. While his analysis is largely acceptable, in the entire article, he never mentions feeling an emotion, such as happy, sad, or angry. This omission could have been intentional or a sloppy oversight. Either way it weakens Mead's definition, and he provides no response to the argument that emotions are neither pure bodily states nor pure mental sensations. However, Mead's work did provide a small push that helped initiate debate about the nature of emotion."
The following are some tips and suggestions you can use when you write your own review of research article:
Make sure to back up criticisms you make with evidence from either the paper you are reviewing or another article
Remain objective in your review
Focus on two or three main points rather than trying to cover everything
Proofread always
About Our Literature Review Writing Service
Our literature review service can provide help with any type of literature review including research article reviews. The professional writers we use are experienced and very familiar with the research article review process. The article review you receive will be completely original and customized to your specific requirements. Other benefits of using our service include:
Guarantee that the review we provide satisfies all of your requirements and is delivered on time
Budget friendly rates that are easy to afford
Easy online order and payment process
Customer support 24/7
Contact us for a research article review customized to meet your needs!