What Is a Systematic Literature Review?
The systemic literature review is a type of critical literature review. A literature review can be considered systematic if it meets the following criteria:
It is based on a clearly formulated question
It identifies relevant studies
It appraises the quality of the relevant studies and summarizes evidence by use of explicit methodology
A systematic literature review is a way of identifying, evaluating and interpreting all available data relevant to a research question or topic area. Medicine is a field that uses the systemic method of literature review.

Critical analysis of literature effectively has resulted in systematic review methods being used in most scientific disciplines when there is a need to evaluate literature. In addition, you may find more information concerning science article review by visiting our site.
Systematic Literature Review Features
Systematic literature reviews have several features aimed at maintaining high standards.
Starts with the definition of the review protocol which specifies the research question being asked and methods that will be used to perform the review
Based on a defined search strategy that aims to detect as much relevant literature as possible
Search strategy is documented so that readers can assess its rigor and the completeness and repeatability of the process
Requires explicit inclusion and exclusion criteria to assess each potential primary study
Specifies the information to be obtained from each primary study
The prerequisite for quantitative meta- analysis
Those conducting the reviews are also critical to the review's success as features must be followed to work.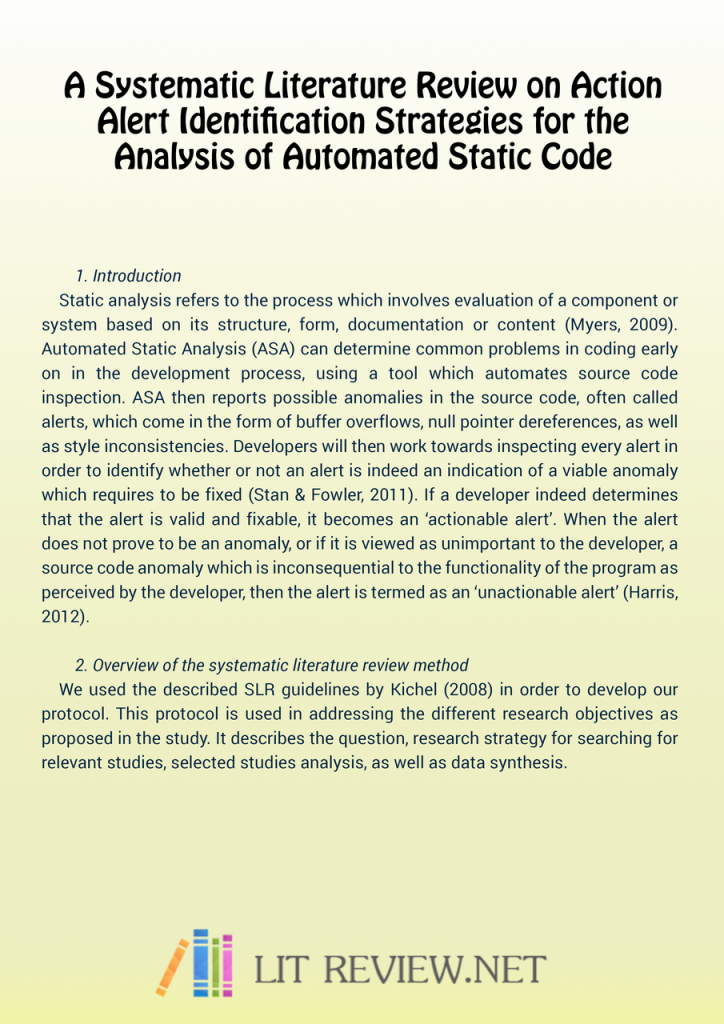 ---
Get to know what literature review writing services in Kuala Lumpur can help you with!
---
The Process of Conducting a Systematic Literature Review
The systematic literature review process consists of five steps:
Frame the question. The problem should be specified in a form that is clear and structured before beginning anything else.
Identify relevant works. Selection criteria should be specified and must flow directly from the review question. Reasons for inclusion or exclusion should be recorded. All available resources should be searched, and searches should be as comprehensive as possible.
Assessing study quality. Selected studies will go through a more refined quality assessment using general critical appraisal guides. Evaluate using the PQRS system (preview, question, read, summarize). Document the evaluation process
Summarize the evidence.
Interpret the findings.
If you have any difficulty writing a systematic literature review, the literature review writing service we provide can help.
Assistance with Literature Reviews
Our service can provide writing help with any kind of literature review. The professional writers we use are experienced with the literature review process and the different methods employed. They can provide you with an original literature review written specifically for you.
Some of the other benefits of using our service include:
Professional editing on every literature review we provide
Affordable rates without lowering quality or turnaround time
Around the clock customer support 24/7
Complete customer confidentiality
When you need a literature review or for any reason contact us for high quality literature reviews at affordable rates!