Perfecting your science thesis can seem daunting, but we can help you utilize all your available resources, such as your thesis database, to create a thesis that will fully support your data and demonstrate your activity whilst progressing through your Master's. Main types of thesis, literature review thesis, average time spent and when you will need to write a thesis will all be covered plus plenty more in our guide! You may be required to write a thesis for science based subjects as well as humanities like Geography. Any subject where data can be presented for research and a hypothesis can be made to test can require a thesis.
Theses are intended to demonstrate your progression through and understanding of your chosen field which have been developed throughout completing your Master's. A good science thesis will feature a strong hypothesis which is considered through research and data you have conducted and collected. A good hypothesis will be one that has relevance to your chosen field so consider what questions need answering in the real world! All theses should include title and signature pages, an abstract, acknowledgements, a table of contents, figures, tables, illustrations and symbols or abbreviations as a basis before any of your own research or data can be included.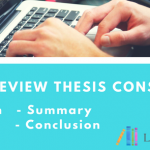 Two Types of Thesis to Write for Your Master's
A traditional thesis
This type of thesis is an organised document providing a logical and complete account of your research throughout your Master's. As well as the pages listed above, it should include an introduction, main body and bibliography.
Manuscript-based thesis
These theses are constructed around related manuscript(s) and may include extra results chapters. This type is useful if your research has produced manuscript(s) for journal publication. They include:
Chapter 1 – Introduction, literature review and thesis theme as well as objectives to be tested.
Chapter 2 and on – Content of a manuscript for publication, references must be included and chapters do not need to be altered much from the published version.
Additional results – These may not have been written up in the publication so can be included as a separate chapter(s) following the style of the traditional thesis.
Conclusion – Analysis of material, discussion related to the manuscript, evaluation of research, significance of research and consideration of application of research.
Appendices – thesis methods, details of experimental data, diagrams of equipment and samples of questionnaires.
How to Improve Your Science Thesis
Come up with an interesting but professional title;
Engaging first sentence without discrediting your research or making it seem childish;
Ensure you are precise and to the point with your language;
Integrate data effectively to create a smooth, easily readable thesis;
Footnotes are your friend in keeping track of sources;
Credit sources properly with a bibliography and footnotes;
Consider your own argument when including quotes, just because a point is obvious to your does not mean the reader will make the same link;
Keep each paragraph to the point, try not to diverge too heavily from your initial idea;
The more reading you can do around the subject the better, find quotes, points and learn about previous related research from articles and books – just make sure you credit them;
Consider using more concrete nouns than abstract to appear more decisive and confident in your research and data;
Proof read your work, nothing looks sloppier than poor grammar or spelling in your thesis, you've spent a lot of time writing and preparing it so at least make it legible;
Do not make generalisations if they can be avoided, precision is key in writing a strong thesis;
Support your own arguments with quotes and data from your thesis database to be convincing;
Do not raise new issues in your conclusion, it is an evaluation of your research and data not an extra paragraph to make new points you have forgotten about earlier;
Finally, finish when you feel you have made your point – don't drag it out unnecessarily, be confident in your point!
How Long Will My Thesis Take?
What is literaturemap? How long is a piece of string? Your best bet is to begin as soon as you start the project, little and often is the way to go. The sooner you can begin research the better, even if you do not actually need to start writing your thesis yet. This allows you lots of time to make links and adjust your ideas. While it is good to accumulate data and research throughout the project, it is not a good idea to do this until just before your deadline and try to write a lengthy thesis then!

Continue to collect resources throughout writing your thesis, this can be added in and edited at any time. Better that than trying to write an entire project at the last minute! Write your thesis summary as soon as you can, leaving gaps for data if required, this allows you to see what needs to be achieved before your project starts. Once you are finished the summary can be adjusted according to your research and data. Keep writing bits and pieces, including research and quotes as you go and you will find, eventually, that much of your thesis can be fitted together with these smaller pieces after a little editing.
What Is a Literature Review Thesis?
A little like an editorial, a literature review demonstrates the writer's opinion on their chosen piece of literature. It is worth comparing those in a newspaper to one found in an academic journal to help you decide how you want to go about writing your review. A newspaper review is more likely to be sensational compared to that of an unbiased, objective journal.
The literature review thesis requires you to show skills in seeking information and analysis. They need to relate directly to your thesis hypothesis, bring together results into a summary, consider controversy in the piece of literature and consider questions that need more research. Generally they contain four parts:
Introduction – Grabs the reader's attention, basic information about the piece and its author;
Summary – Brief synopsis of piece's content, this only needs a couple of paragraphs and states major points but does not go further in its analysis;
Analysis – Strengths and weaknesses, the writer is allowed more freedom to express their opinion, academic reviews such as those in their thesis should balance criticism with positive features and avoid making decisive judgements;
Conclusion – Brings together the writer's arguments and opinions on the usefulness of the piece and only needs to be very brief.
Thesis Summary and Conclusion
Closing your science thesis is an important part of your writing. It must contain statements about your findings, relating in particular to your hypothesis; state the importance of what you have discovered to your field of research as well as considering the limitations to your investigation and details of where you could go from here in terms of future research. Further discussion is not required in your conclusion; as we said earlier do not make more arguments in this section of your thesis – only include points you have already raised! Do not include references in your conclusion, as above, and keep it concise.
The length of your conclusion depends on what you are expected to include, this should be explained to you by your advisor. Fundamentally your conclusion should include the extent to which you achieved your aims, how significant (or not) your results were and where you can take this research in the future, are there any interesting areas you could explore from your project? How to create a good thesis? Preparation and using all the time you have available are key to writing a good science thesis in your chosen field of study.
Consider our guide to help you make the most of your time and develop an interesting and well-informed argument to work with your hypothesis!