The Importance of Knowing How to Write a Literature Review APA Style
Academic writing typically needs to follow a very strict format if it is going to be accepted. This means that your literature review will need to not only be written perfectly it will also need to be written to follow very firm guidelines as to how it should be laid out and written.
Failure to learn how to write a literature review APA style could see your work either rejected for corrections to your writing or even not being published.
So if you want to ensure that your work is correct just follow these simple tips and guides to get your literature review perfect in APA style.
What Should Your Literature Review APA Style Cover?
Learning how to write a literature review APA style is not easy, especially when you are writing your very first review. A literature review should not be considered as a simple list of publications that you have read in your search for knowledge with a brief summary of what each has to say. It is an essay that will provide the reader with a good overview of all of the important information published around the area of your research.

The following are the areas that your literature review will need to cover:
A brief introduction to the subject that you are researching
The full objectives of your research so that the reader knows what you are looking at
Categorize all of the research into the positions that they take
Contrast and compare the different arguments
Don't forget to provide an evaluation of the works that you have reviewed:
Establish the credentials of the authors whose work you have reviewed
Show if their work is based on credible evidence
Show if their work is objective or biased
Evaluate how persuasive and valuable the literature is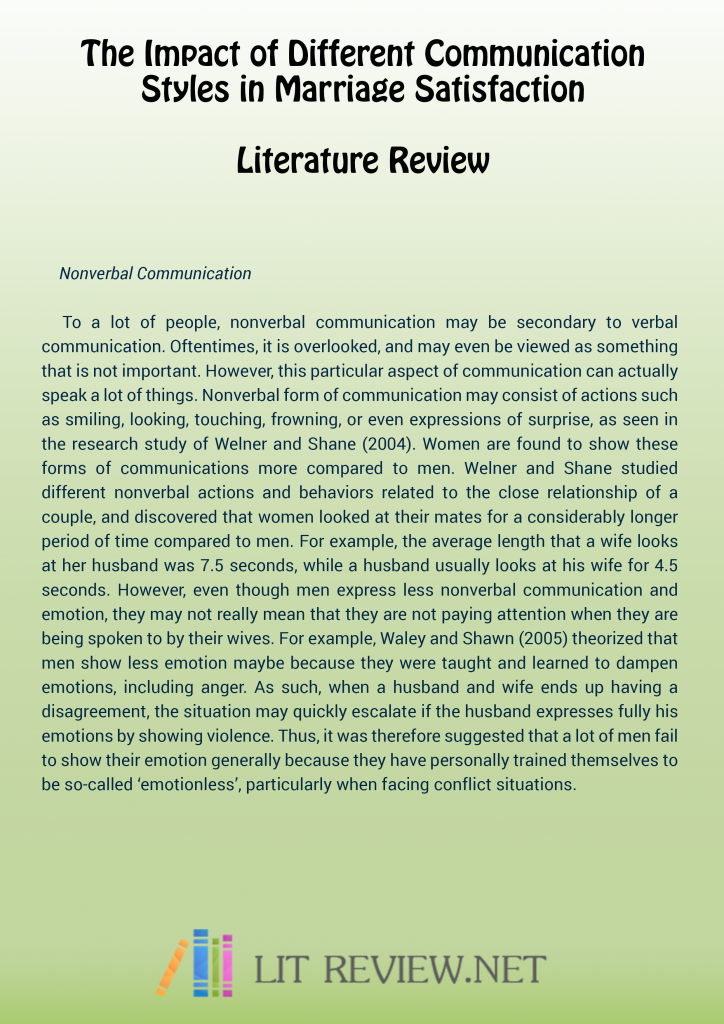 Download the full PDF just by clicking on the picture!
Learning How to Write a Literature Review APA Style and Format It Correctly
It is not just what you cover in your literature review that is important, you also have to ensure that you follow the requirements of the APA style perfectly also. Using a literature review APA example or a template can make life simpler but you still need to check that the formatting is correct.
The following tips will help you to ensure that your paper is written in the correct APA style:
Never use a first person point of view when writing
Don't use contractions within your writing
When using an acronym put the name first then the acronym and enclose within parenthesis; "American Psychological Association (APA)"
All sentences need to be double spaced (you can have your word processor check for this automatically)
Numbers below ten should be spelled out instead of using figures
Only use page numbers for citations in text if it is a direct quote
Get Literature Review Assistance from Experts
Our company specializes in writing literature reviews of all types and at any academic level. The professional writers we use are skilled and experienced. They are extremely familiar with the literature review process and what makes a good literature review. The literature review they provide for you will be customized to your specific requirements and completely original. Be sure, we provide the best lit review help!
Some of the other benefits of using our service include:
Guarantees on every literature review, that it satisfies all of your requirements and is delivered on time.
Fast and easy online order and payment process
Affordable rates
Customer support 24/7
If the hints and tips above are not enough to help you ensure that your literature review is perfectly written in APA style then one of our highly qualified experts can help you!