Generally a part of your final year of study, dissertations are a form of assessment that is different to other module assessments. Often required in science and humanities subjects they aim to make you responsible for your own learning. You have to find the best dissertation advice at our literature review writing service to make you research and defense perfect!
So Why Write a Dissertation?
Dissertations are designed to assess your ability to take responsibility of your own learning, undertaking research and writing up your findings. It allows you to identify an area you are interested in to explore in depth.
It encourages you to further your intellectual and information-seeking skills as well as giving you the opportunity to manage a project from beginning to end.
The long word count means you can continue your analysis to include more variety of data and materials, allowing you to make a more informed and all-encompassing argument.
Many of the skills required to complete your dissertation are useful when it comes to employment, such as: collecting and analyzing data as well as the production of reports.
Dissertations allow an element of freedom and mean you can pursue a subject that interests you, perhaps one that you will consider when choosing a career.
Writing a dissertation is about you furthering your chosen field rather than just writing about another's research!
Dissertation Research Methods
There are three types to choose from: qualitative, quantitative or mixed methods. Your reasons for choosing either may be practical, personal or of a more academic nature.
Qualitative
Often this type of dissertation is more associated with qualitative research methods like interviews and participant observation. However there are a number of characteristics.
The research process tends to evolve during your dissertation; this is called an emergent design;
Theory is used to establish research processes and consider new theoretical insights but it is unusual for the dissertation to set out to test a theory initially;
Often underpinned by a research paradigm such as constructivism;
Research designs tend to vary depending on the route followed, be it case study research or ethnography, for example;
Theoretical sampling is used to answer research questions;
People are often studied in natural settings, generating qualitative data;
Quality of findings is assessed on dependability and confirmability;
Findings are showcased through personal accounts and case studies;
Conclusions tend to be tentative rather than concrete.
Quantitative
This type of dissertation is not about research methods, unlike qualitative dissertations. This type will research a theory, answering a hypothesis and drawing conclusions from results.
Attempt to build on or test theories;
Answer quantitative research questions or research hypotheses;
Draw on research designs such as descriptive, experimental or relationship-based;
Probability sampling techniques are used to make extrapolations to apply data to a wider population;
Research methods that create quantitative data such as data sets, lab work, surveys and structure interviews are used;
Statistical analysis is prevalent;
Quality of findings are assessed on reliability and validity;
Reports are made using data, tables and graphs;
Conclusions are based around research questions of hypotheses, discussing how this research could affect the future of the field or to test/expand on existing theories.
Mixed methods
This type of dissertation and science thesis aims to combine both qualitative and quantitative approaches and has become more and more common. However, the two approaches are very different, making it quite a difficult route. Generally considering your subject is the best way to decide whether or not this is the method for you as some topics lend themselves particularly one way or the other.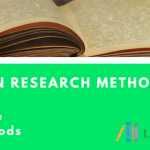 So How Do I Choose?
As above, some subjects lean one way or the other and often this will become clear to you as soon as you decide on your research question or hypothesis. However, you may have more personal or practical reasons for your choice in dissertation research methods. If you like to plan ahead then the sequential nature of a quantitative dissertation would likely appeal, equally if you have always worked with one research method over the other then you will likely be more comfortable and confident with that. Your choice in method will often help you with how to write a scientific dissertation in particular. If you aren't interested in lab tests or experimental research then you may find that unstructured observation and case studies are far more appealing. Similarly, if you like to be able to make a more decisive conclusion about your data then quantitative methods are probably for you!
Dissertation Advice
Find an original and engaging research project, use it like a sample;
Be critical and focus on analysis of your data and research, creating a complex and refined argument;
Really read around your subject to find some lesser-used source materials to help you stand out;
Include tables, figures and quotes to support your argument;
Consider your audience, ensure your dissertation is coherent without being patronizing, a level of understanding can be assumed but don't over-complicate things;
Write several drafts to help you proof-read and edit your dissertation to make it look professional – no sense spending all that time on research to produce a paper full of grammatical and spelling errors!
Ensure that your writing is organised into dissertation chapters that follow the structure you have been instructed to follow. This allows for easy reading and stops you losing points for not following the rules!
Dissertation Defense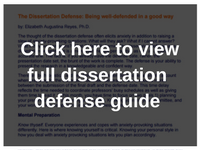 At the end of your dissertation a defense must be prepared and signifies the end of your graduate career. Preparation is key in a successful defense; here are some of our tips to performing well in this section of your dissertation:
Attend other defenses to help you know what to expect;
Be clued up on rules and deadlines that cover a defense schedule;
Have your dissertation reviewed before the defense to make sure it follows formatting requirements;
Ask what may be raised during the defense in your pre-defense meeting to help you prepare;
Ensure your presentation of materials is smooth and confident; practice it along with answering questions.

Literature Review in Dissertation
A little like an editorial, a scientific literature review demonstrates the writer's opinion on their chosen piece of literature.
The literature review requires you to show skills in seeking information and analysis. They need to relate directly to your research question or hypothesis, bring together results into a summary, consider controversy in the piece of literature and questions that need more research.
Generally, they contain four parts and are structured much like your dissertation chapters:
Introduction – Grabs the reader's attention, basic information about the piece and its author;
Summary – Brief synopsis of piece's content, this only needs a couple of paragraphs and states major points but does not go further in its analysis;
Analysis – Strengths and weaknesses, the writer is allowed more freedom to express their opinion, academic reviews such as those in their thesis should balance criticism with positive features and avoid making decisive judgments;
Conclusion – Brings together the writer's arguments and opinions on the usefulness of the piece and only needs to be very brief.
The conclusion is an important part of your writing. It should contain a brief introduction summarizing your findings, analyse your research project and consider what could be changed or improved. Do not bring new information to the conclusion, all points you want to make must be included in the body of your dissertation – not at the end! Don't forget that you always can order our literature review writing service! Use the information we've provided to write a top notch dissertation that will wow your advisor! Literature reviews and defense meetings will be a worry of the past with our handy guide.
Use this dissertation advice and dive headfirst into your dissertation with confidence!