A requirement for obtaining your medical degree in most universities, a medical thesis demonstrates your ability to assess, research, and acquire knowledge from a variety of sources. It encourages you to be curious about your field and be imaginative in the questions you ask through investigations. It will be the sum of your degree and the more time you can take to complete it the better your grade will be. Little and often is the key to a good thesis so gradually, building your research will allow you to piece your investigation together throughout your allotted time. It will help you to write a perfect analytical research paper.
Medical Thesis vs. Nursing Thesis vs. DNP
A Doctor of Nursing Practise or DNP is for already accredited nurses who have at least a baccalaureate degree in nursing. It focuses particularly on ethical considerations throughout research while following a similar route to other theses. It still requires a level of skill in evaluation, analysis and data collection while bringing new insights to the field. A DNP will include a clinical project to show knowledge of evidence-based practices.
A PhD in nursing is more research focused than the clinical practice obtained throughout completing a DNP. A nursing research thesis will focus more heavily on original research and methodology which leads to a final research project. Overall a DNP is more practical than the theoretical nursing PhD with up to 1000 hours of clinical work compared to the minimal amount needed for a degree. Salary expectations of holders of either qualification are very similar with DNP nurses earning roughly $1,000 more per year.
A medical thesis will be required to complete your master's degree and is usually related to a research paper you will have already completed. Others' research and your own analysis are the only things required as your thesis should demonstrate analytical thinking while narrowing your field to a topic you are interested in.
---
Nursing literature review writing tricks and secrets are here!
---
Common Features
All three varieties of thesis require a high level of analysis and the ability to conduct research and draw quality results from your investigations. Each thesis also follows a similar structure with introductions, literary reviews, main body paragraphs, conclusions, bibliographies and appendices a must for inclusion. Original research is merged with your own insights and data to reach a conclusion throughout the process of working on your thesis. Your main goal throughout any higher education qualification, be it a degree or a DNP, is to complete original research projects and demonstrate your understanding and passion for your chosen topic.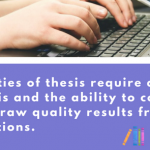 Common Mistakes Made While Writing Your Thesis
Grammatical and spelling errors. Having worked so hard to complete and perfect your thesis it is worth proofreading your work to ensure that time and effort haven't gone to waste with poor writing. Frequent mistakes make your work look unprofessional and unpolished.
Using longer sentences. While it is good to expand on your ideas and important to provide plenty of support for your arguments long sentences can lead to confusion. Short and simple sentences keep your writing to the point without wandering off on a tangent and becoming over complicated. Ideally, a variety in sentence length is best to hold reader interest but be cautious in allowing sentences to run on.
Forgetting references. References and your bibliography are an absolute must in any thesis. Footnotes are a great way to keep track of quotes and outside research, you use to support your arguments. Forgetting to the reference can cost you a serious portion of your grade as this would be considered plagiarism or even appear as though you haven't considered other research at all.
Changing the format. Theses follow a very set format and messing with this could very well cost you some serious marks. Follow the rules and you won't leave yourself open to losing any extra marks that could bump your grade up and make all that hard work worthwhile. Just like spelling and grammatical errors, there is no sense losing out for mistakes that could easily have been avoided!
Informality. Your thesis is going to be read by a professional who has a good understanding of the topic. Do not be tempted to make your writing too informal in an attempt to be entertaining or just through laziness! Take the time to write a professional-sounding piece and don't forget that your thesis must take on an academic style.
Lack of judgment. Try to avoid your writing becoming too personal and ensure you analyze and judge situations, research and data effectively. Without this, your thesis will become indecisive and lack the analytical side that you are being graded on. A judgment must be made based on information you have researched and collected.
Procrastinating! Get to work on your thesis as soon as you can. Build it gradually as you collect more research rather than having a mad panic just before your deadline. Little and often is key here!
Popular Literature Review Topic Ideas Nursing
The Man Who Mistook His Wife for a Hat and Other Clinical Tales – Oliver Sacks
Better: A Surgeon's Notes on Performance – Atul Gawande
Stiff: The Curious Lives of Human Cadavers – Mary Roach
Final Exam: A Surgeon's Reflections on Mortality – Pauline W. Chen
When the Air Hits Your Brain: Tales of Neurosurgery – Frank T. Vertosick Jr.
On Call: A Doctor's Days and Nights in Residency – Emily R. Transue
The Emperor of All Maladies: A Biography of Cancer – Siddhartha Mukherjee
Popular Thesis Topics for Nursing Students and Medical Students
Asthma in children younger than 12
Newborn screening for immunodeficiencies
Cardiovascular risk in patients without cardiovascular disease
Treatment of acute pericarditis
Evaluation of head trauma
Management of alcohol withdrawal symptoms
Hormone therapy to treat menopausal symptoms
Management of hyperglycemia in type 2 diabetics
Choosing cesareans as the route of delivery
Diagnosis of Lynch syndrome
Functional gallbladder disorder
Evaluation of suspected breast cancer patients
Pneumococcal vaccination in adults
Treatment of HIV infection
Evaluation of infertility
The conclusion is an important part of your writing. It should bring together arguments made throughout your essay rather than being a summary of information. Do not bring any new information to your conclusion make all of your points in the main body of your essay! Your argument should already have been made clear so use the conclusion to tie everything together. Once you have made your point clear do not feel the need to drag this paragraph out any longer!
Follow our guide to writing a top notch medical or nursing thesis and move a step closer to the career you have been dreaming of! With our help, you will have no trouble at all completing the thesis you may have spent months having nightmares about.
We can help you complete your medical thesis with no trouble!