The Best Literature Review Writing Help
A literature review is considered as the most difficult and time taking part when you write a thesis or research paper. People prefer to do it on their own but getting literature review help is a good idea. We have a team of professional writers, who are well trained to write your literature review. They have years of experience and know all the requirements of the literature review. Our quality services make us the trusted service in this niche. Our literature review writing service has some great features like…
Literature review
Our literature review service can write any kind of review. Narrative literature review, systematic literature review, meta-analysis literature review, argumentative literature review, integrative literature review, scoping literature review or any other. We have experts for every subject as well, no matter you need literature review for engineering, medical, law, education or any other subject. Our professionals are well aware of the content and formatting requirements of all these literature review categories.
Styles
We can format your literature review in the formatting style of your choice. APA, MLA, ACS, Chicago or any other, we can write your thesis in any style.
Additional services
Not only literature review writing, but we also offer some other services. You can hire us for admission services as we provide assistance to write all your admission documents. Our experts can do editing and proofreading of any kind of documents. Not only that, our professionals can do formatting as well, saving your time.

How to Write a Literature Review: A Short Guide
Review of the literature is the most important part of research papers, thesis, and many other documents as well as it is a standalone document. It provides the basis for your research. It is not easy to write a literature review. But if you follow some simple steps, you can write it. Before you start writing a lit review, you need to understand some basic questions.
What Is a Literature Review?
A literature review is a type of review article. It is also called a narrative review. A literature review is written on a particular topic. The topic is discussed not only on a theoretical basis, but present knowledge is also included. A literature review also provides information about the methodology, depending on the type of topic. A literature review can be of different types, sometimes narrative, sometimes critical and many others. So, you need to understand first that what kind of literature review you are going to write, requirements are different depending on the purpose.
What Is a Literature Review Format?
Literature review format is a big concern when you start writing a literature review. You can seek help with writing a literature review because the formatting is not simple. There are different sections in a literature review.
Introduction: It is the first section, where you introduce your topic and discuss its importance.
Summary: In this section, you briefly mention the purpose of the study and the major findings.
Conclusion: Brief conclusion of the present study and the aspects on which more work is needed.
References: in the end give the list of references used on a separate page. They should be written according to the preferred reference style of your institution, APA, MLA or any other.
Literature Review Example
If you are confused about the format or the content of the literature review, you can see some examples. Read them carefully and you will get to know about the important points. You can find many examples of literature review on our website. They are written by our professional experts to facilitate writers who are looking for some guidance.
Why You Should Buy a Literature Review Form Our Literature Review Writing Service
If you need help writing a literature review, we are here to help you. You may wonder that why you should choose us when plenty of services are available online. Here we have some reasons, which will help you to understand why we are better than others.
☑ We understand the importance of references and that is the reason every reference we use is very closely related to your research topic.
☑ We cite only the primary sources.
☑ We make sure all the references are from the recent researches, not from the last century.
☑ We do proper formatting in your required style, no matter its APA, MLA or any other. We will do what you want us.
☑ We write literature review very clearly, making a clear distinction between known and unknown facts about the topic.
☑ We help our clients by identifying those areas in which further research is required.
☑ We also help to develop a research question, which is required for the main body of the literature review.
How Much You Pay for Literature Review Service
You need to pay for literature review service, but we offer the most affordable services. The price depends on different factors like the nature of document, urgency, and number of pages. If you need your document in a short time, we will charge a little extra. Here is the list of our prices for thesis. These prices are for one page, with a 20% discount.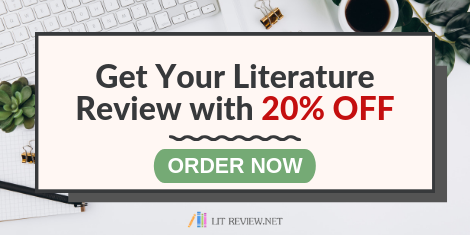 You can find even cheaper services online, but the quality of their services is very poor. To compromise on the quality to save a little money is not a wise decision. We offer quality services at an affordable price. We offer a free plagiarism report and can do the free revision for you if you need. We also offer a money back guarantee, if you are not satisfied with our work. That show our commitment and dedication to our work. We are here to help those, who are struggling with literature review. You cannot find such top-quality services at an economical price.
| | | | |
| --- | --- | --- | --- |
| Turnaround time | Bachelors | Masters | Doctorate |
| 14+ days | $14.25 | $15.54 | $18.13 |
| 10-14 days | $17.10 | $18.65 | $21.76 |
| 7-9 days | $19.95 | $21.76 | $25.39 |
| 4-6 days | $22.80 | $24.87 | $29.01 |
| 3 days | $25.64 | $27.98 | $32.64 |
| 48 hours | $31.34 | $34.19 | $39.89 |
| 24 hours | $35.62 | $38.86 | $45.33 |
| 12 Hours | $41.32 | $45.07 | $52.59 |
How Does Our Literature Review Writing Service Work?
When you need help to write my literature review, you can hire our professionals. We have a very simple working method. Here are some easy steps, which you need to follow.
❶ Provide the details
First of all, you need to fill the form on our webpage and provide us the details of your order. You can send the additional files on our email address and give us instructions and your requirements.
❷ Payment
In the next step, you have to make the payment. We offer different payment methods for the ease of our clients. You can wire transfer or pay with your debit card, whatever suits you. Our payment methods are really safe and secure.
❸ The writer will start working
Once you will make the payment, a writer will be assigned, according to the subject and other requirements of your project. He will start writing your literature review in a systematic way. He will define the subject and scope. All the possible resources will be used to collect relevant literature and only the most appropriate ones will be included. The main steps to write your literature review will be, the definition of literature review, its purpose, its format, and goals.
❹ Draft
Our literature review writer will send the first draft to you. You can review it thoroughly. If you need any changes or not satisfied with some points, you can give your feedback. We will correct it according to your instructions.
❺ Final draft
Our writers will make corrections and after that editors will start working. An editor will check it for grammatical mistakes, spelling errors, sentence structure and any kind of error. We make sure that the document we send to you is free from all kinds of errors. We also ensure that the document is complete according to your instructions.
These are the simple steps to provide you literature review help. We believe in customer satisfaction and do everything for that.
Look no further, try our literature review writing service. Top quality services at a low price!