Criminal Justice Literature Review Writing
Professional literature review writing service has prepared a list of great criminal justice literature review topics for you. It will help you write a good literature review, which is both an explanation and summary of the current and complete knowledge and study on a limited topic in journal articles and academic books. Like what you will find in an example of a criminal justice literature review, the perspective and focus on the review will be based on the kind of review you'd be writing.

How to Write an Excellent Lit Review for Criminal Justice
As you can see in the criminal justice literature review sample, there are certain steps that you need to follow in writing the literature review in criminal justice. Check out the following criminal justice literature review writing process in steps to help you get started:
Look for a working topic based on your study area. You must consider those that interest you as well as what is the significant ground to study about. In addition, you might want to talk to your professor. Also, you might want to brainstorm and read about current issues and lecture notes.
Use relevant computer databases and search using keywords. By using recent reviews and recent articles, you might be able to come up with a valuable paper. You should also try to include some studies, which can be contrary to your point of view.
Focus on your topic and choose resources. If you want to learn how to write an excellent lit review for criminal justice, you should answer certain questions that will help you determine resources, articles, journals and other references in your review. Some of these include the following:

Your interest
Other people's interest
Research time span
Significance of the study

Read and evaluate resources thoroughly. Check your resources and evaluate them well. Look for some assumptions that many researchers have been making on the subject. Find the methodologies that they have used as well as subjects, procedures and materials being tested. Find the research findings as well as conclusions and be ready to evaluate and synthesize them. Also, take note of experts in the subject, including labs and names, which are referenced often. Take note of any conflicting results, theories and methodologies.
Develop your working thesis. What conclusion have you reached? Write up to two sentences that summarize the developments and major trends seen in the studies done on the subject. Sort out selected papers and check for patterns:

You should also develop some subtopics at this point
You must take note of things, including findings contested or common
Influential theories
Up to three important research trends
Organize your literature review. You should develop the headings and subheadings at this point. You should look for a large table surface if the lit review is extensive, and then put filing cards or post-it notes in order to organize the findings discovered under the different categories. If you think that you need to establish new topic headings or the categories fit better under different headings, you can move them around.
Write the paper's body. You should follow the plan and make sure that every section will link to one another. In addition, see to it that you've divided the sections by subtopics or themes.
Consider the analysis made. Check your writing and see that you focused on the review. At each paragraph, look at the main idea or topic sentence. Reading them yourself, do you think that you have presented a clear position in your paper? And is it logically arranged? Avoid the same mistake committed by some students in writing the review. If you think that you didn't critically review the selected paper/s, you must create a new outline according to what you've said in every paragraph or section of your paper. Decide if you have to add new information or restructure the entire paper.
Discover Literature Review of Criminal Justice Topics
Prison Conditions
Sex Offenders
Criminality causes
Racial Profiling
Restorative Justice
Civil Rights
Sexual Crimes
Prisoner Abuse

Patriot Act & Privacy
Recidivism
Mental Health
Competing justice's definitions
Criminology
Prison Writing
Domestic Violence
List of 50 Good Criminal Justice Literature Review Topics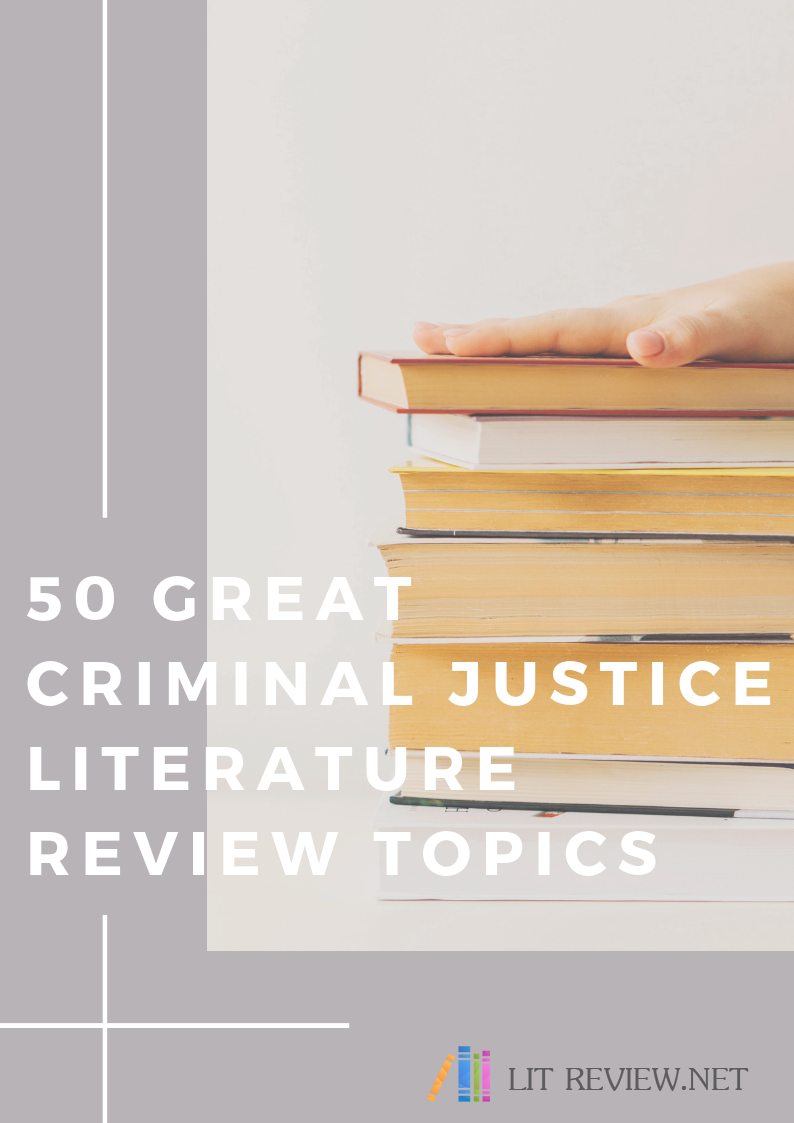 Common Problems and Tips Writing Literature Review in Criminology
What are the common errors in writing the literature review in criminology? Aside from not selecting a literature review of criminal justice topics well, some students commit other errors or encounter problems in writing their review:
Emotional phrases: If you're using too many emotional phrases, your review won't be effective. Always remember that your purpose of writing the review is to present available thought or knowledge on the topic. It only means that you must not be subjective in writing the review. You should not use emotions in this paper.

Injecting personal opinions in the review is unacceptable because you're supposed to offer an unbiased display of available research and thought around your topic. It should not be subjective, but objective.

Plagiarizing: You don't just choose original criminal justice lit review topics but also write a unique paper.

For example, you should not list direct quotations without referenced page numbers.

Writing the author's first and last name inside the text: When discussing researchers and authors inside the paper, don't use their first and last name but only the last name, which must be followed by the study's publication year, if using the APA style.
Adding long URLs in the study's body: This is another common mistake and trouble of some students in writing the literature review aside from choosing wrong topics for criminal justice literature review. You should not commit the same mistake, but then, you must mention the source with the author's last name and then next to it is the year of the study's publication. You must insert the URL in the reference section under the specific reference to that citation.
Review structure issues: Another mistake is not giving a definition or background section. It happens when some students are forgetting to insert a pre-literature review part, which will provide relevant background info together with terms' definition. By not defining these things, you will alienate your readers especially if you're looking to publish your work.
But when trying to define concepts, you must not offer too many definitions or you will confuse your readers. You must keep this section simple as well as only cite common definition for relevant concepts or terms.
Example of a Criminal Justice Literature Review
Criminal Justice Literature Review Sample
Aside from choosing good criminal justice literature review topics, you should also think about how the paper would look and how to format it. Our sample will help you come up with a good literature review on criminal justice. Some of the things to consider include:
| | |
| --- | --- |
| The introduction | It will explain or discuss the focus of the paper as well as will also establish the significance of the subject. It will also explain the work that has been studied. In addition, it will identify any controversies within the recent research or field that has raised any questions that exist in the available earlier assumptions. |
| The body | This section will be divided into headings and subheadings. It will also summarize and evaluate the present field knowledge. The body will also define major topics or themes along with findings and patterns. |
| The conclusion | It will summarize the evidence used, showing its significance. But if you're doing the literature review to make your research, it should be able to highlight any gaps. It must also indicate how previous studies have lead to the research project as well as selected methodology. Take note of this aside from choosing good literature review topics for criminal justice. |
How to Write an Excellent Lit Review for Criminal Justice? Get an Expert Help
Our team of experts won't only help you choose criminal justice controversial topics but also help you in writing the review. Choosing us, you don't just get ideas on new and good list of basic criminal justice topics, but you can also take advantage of our unique features, including free proofreading and free bibliography. We also have professional writers that can write and complete an amazing criminal justice literature review.

With us, you can have peace of mind that we'll write a good literature review. Using our services, you can also rest assured you will receive custom research services from unique criminal justice research proposal topics. We can also provide referenced literature reviews, help on annotated bibliography and write on any topics including political science literature review topics. So if you're looking for not only a good criminology literature review example but also a custom writing service, you should not think twice but hire our experts.
Advantages of using our literature review writing service:
Free proofreading and plagiarism check to ensure original and error free papers
Guarantees of full customer satisfaction and on time delivery with all work we provide
Complete customer confidentiality always assured
Live customer support 24/7 to address any questions or concerns
Need expert assistance choosing a perfect criminal justice literature review topics? Contact us now and we will help!