Your academic essay should aim to convince readers that evidence supports your argument. This essay might be used in coursework or exams as a means of assessment and a strict word limit forces you to be concise and get to the point of their argument. Our qualuifued team of book reviewers, decided to share some secrets on how to write a good academic essay with you.
Pros and Cons of Essay Formats
This type of essay can be both a blessing and a curse when it comes to getting top marks in your assessments.
Positives:
Having to establish a primary argument allows you to condense your ideas enough to focus more easily;
Word limits also makes subject matter more manageable as it is harder to go off on a tangent without wasting valuable words;
Set essay structures help you plan what needs to be included and allows you to organize your thoughts;
Academic essays force you to be decisive in your conclusion;
A strong title will give you a central point to keep coming back to where a broader research project can leave too much room for getting distracted from your original aim.
Negatives:
Word counts can prevent you from pursuing your topic with a broad range of materials which can make your conclusion ill-informed;
The analytical style of writing can make a topic dry and not particularly engaging;
Sticking too rigidly to your initial title can make you manipulate data to fit it, rather than considering a conclusion based on your data.
Types of Academic Essay
There are four main types of essay, all of which have variations. Your academic essay topics will affect which one you choose, they are:
Exposition – Provides information or attempts to explain a topic to the reader. Examples might be research-based essays and compare or contrast essays.
Narration – Uncommon in academia, this type of essay tells the reader about a particular event. This is more often found as a novel or poem.
Description – Generally found in fiction or poetry, this type of writing is usually vividly descriptive of a person, place or event.
Persuasion – Often controversial the writer expresses their opinion and tries to persuade the reader of their argument. These often use statistics, quotations or outside sources to support arguments.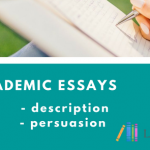 How to Write a Good Academic Essay
Consider what you're being asked. Do you have a full understanding of exactly what is required of you?
Read around your academic essay topics. Collect sources and extra information that will be invaluable to both your writing and your own understanding.
Plan your essay. Outline the main points you want to make and order them. Check word counts or length requirements to be sure you have enough to fill those stipulations.
Begin to organize your research. Establish main points that will be the foundation of your essay then arrange your evidence around those arguments.
Start with the bulk of your essay, not the introduction. Ensure that you focus around your title and try not to deviate. Use a point-per-paragraph system to organize your essay.
The conclusion comes next with the academic essay introduction last! This means you already know what is in your essay so your introduction will be all-inclusive and nothing will come as a surprise to the reader.
Proof-read your first draft for grammatical and spelling errors and to ensure it is easily readable.
Double check that you have included evidence to support all of your points. Avoid generalizations to make your argument more valid. Include academic phrases for essay writing to give your argument credibility.
Additional research may help you beef out your essay a little if it's short of the word count or any points are weak.
Finally be sure your essay follows any formatting requirements and give it another read through or two to iron out any mistakes. Even better if you can have a friend look it over – they may spot something you have missed or notice any areas that don't make sense.
Academic Essay Structure
Begin with a title that will outline your essay. This may be the point you are trying to make or a broader overview.
Your academic essay introduction should give an idea as to what your argument will be. It can be brief but nothing in the essay should come as a big surprise to the reader having seen your introduction. It doesn't need to be long but should give an overview of the essay. If not in your title this paragraph may contain your hypothesis or essay question.
Each paragraph after the introduction should, ideally, follow a point – evidence – explain the format. Keep each point central around your initial title or question and always back up your points with evidence from your research or your own data if relevant.
Try to make smooth transitions between paragraphs, consider the order in which you make your points to help with this.
Your conclusion will be your final paragraph and should bring together all of your arguments. Try not to include any new information here as your opinion should already have been made clear! Be decisive in this paragraph and don't drag it out once you have made your point clearly.
---
If you need a dissertation advice, click here!
---
Essay Literature Review
A little like an editorial, a literature review demonstrates the writer's opinion on their chosen piece of literature. The literature review requires you to show skills in seeking information and analysis. They need to relate directly to your essay question or hypothesis, bring together research into a summary as well as consider controversy in the piece of literature and questions brought up that need more research.
Generally, they contain four parts:
Introduction – Grabs the reader's attention, basic information about the piece and its author;
Summary – Brief synopsis of piece's content, this only needs a couple of paragraphs and states major points but does not go further in its analysis;
Analysis – Strengths and weaknesses, the writer is allowed more freedom to express their opinion, academic reviews such as those in their thesis should balance criticism with positive features and avoid making decisive judgments;
Conclusion – Brings together the writer's arguments and opinions on the usefulness of the piece and only needs to be very brief.
The conclusion is an important part of your writing. It should bring together arguments made throughout your essay rather than being a summary of information. Do not bring any new information to your conclusion make all of your points in the main body of your essay! Your argument should already have been made clear so use the conclusion to tie everything together. Once you have made your point clear do not feel the need to drag this paragraph out any longer!
Take the information we have provided in our guide to go on and produce top quality academic essays for assessment. The tips in this guide will allow you to structure and plan your essay effectively, allowing you to present your ideas and arguments in a coherent and well-structured way using academic phrases for essay writing.
Write your best academic essay yet with our guide!