Term papers are based on research and written over an academic term. Often they account for a large portion of your final grade. In theory, these papers could be published and, while that is unlikely, this dictates their format. The paper can generally be written about anything, like a research article review, but there must be a central idea which is yours and yours alone. So, let's find out how to make a term paper.
So Why Do We Write Term Papers?
Of course, these papers are assessed so they go towards your final grade. They encourage you to work individually and further your knowledge of a topic through research. They promote intellectual curiosity and improve your information-seeking abilities. Finding a topic you are interested in allows you to enjoy learning rather than sitting in a lecture and listening to a teacher. Some papers are even published in journals which is a great achievement.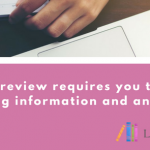 Format of a Term Paper
A structure is important to creating a coherent argument, so following a set pattern can help bring your ideas together and ensure you have all the parts of the term paper that you need.
Cover page. This should include your name amongst other information that will be advised by your lecturer.
Abstract. Describing your term paper, this should be less than a page long. It gives the reader an idea of what to expect from your paper and what made you choose to write about it.
Introduction. Like any academic essay your term paper must include an introduction. This should highlight the statement or question your essay is based around. Explain the significance of the problem you've highlighted or provide recent events that have affected or were affected by your topic. How do you plan to fix the issue?
Main points. Insert your arguments throughout your paper, using your own research, quotes and data to support your theory. It must be heavy on information and unbiased to give your argument credit. Try to use the point – evidence – explain system throughout your paragraphs.
Result. Has your view changed as a result of your research? Pull everything together and relate to your introduction.
Summary and conclusion. Bring your arguments together; nothing in this paragraph should be a surprise! Avoid bringing new information into the conclusion; instead use it to solidify your argument. Finish by encouraging the reader to further their own research on the subject.
Use the APA format for social sciences and the MLA for liberal arts and humanities.
How to Make a Term Paper
We've condensed information into 10 easy steps to help you write a term paper worthy of publication!
Pick your subject. There are lots of term paper topic ideas. What interests you most? Sciences? Geography? Politics? Choose an area you feel will hold your attention.
Narrow your field of study to one topic. Is there anything that particularly interests you about your subject? Any questions you have or areas you feel merit further research?
Make sure your term paper topic ideas have enough information around it for you to research effectively. It's not good picking a fascinating topic if you can't find any information about it!
Start reading around it as much as you can. You will already have information available when you start writing your essay but also it will further your own understanding.
Establish your statement. It should stick to your topic but provide some direction; it may be a challenge that needs to be overcome or a question that is yet to be answered.
Bibliography. Immediately begin your bibliography as soon as you start to research so you don't forget any sources. It will also allow you to re-check any information you found previously again without trawling through books a second time.
Structure. Use your bibliography to draw your points together into a coherent essay plan. See where paragraphs can smoothly be linked and allow your argument to flow rather than jumping around and becoming haphazard.
Begin to put things together. Use your outline and research to start writing up your argument. Start with the main body of the essay and leave your term paper introduction until later. This means you will have a clear idea of what is in your paper so nothing comes as a surprise to the reader as finished your introduction.
Proofread. Even better if you can have a friend read it through. This will help you ensure there are no grammatical or spelling mistakes as well as being confident your paper makes sense to an outside eye.
Fill out and tidy up. Conduct more research if your argument needs filling out and correct any issues that came up in your proofread. Double check you have followed the right format of term paper.
---
By clicking here, discover how to write a good academic essay!
---
Literature Review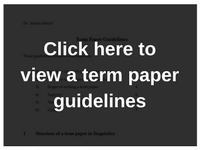 A little like an editorial and an important part of the term paper, a literature review demonstrates the writer's opinion on their chosen piece of literature.
The literature review requires you to show skills in seeking information and analysis. They need to relate directly to your initial argument, bring together research into a summary as well as consider controversy in the piece of literature and questions brought up that need more research.
Generally, they contain four parts:
Introduction – Grabs the reader's attention, basic information about the piece and its author;
Summary – Brief synopsis of piece's content, this only needs a couple of paragraphs and states major points but does not go further in its analysis;
Analysis – Strengths and weaknesses, the writer is allowed more freedom to express their opinion, academic reviews such as those in their thesis should balance criticism with positive features and avoid making decisive judgments;
Conclusion – Brings together the writer's arguments and opinions on the usefulness of the piece and only needs to be very brief.
Analyzing Literature for Your Review
Read and summarize. Make notes of anything that leaps out at you.
Consider strengths and weaknesses of the piece's findings as well as its validity.
Is it objective and unbiased?
Compare the articles. Look at the concepts shown in each and establish differences.
What methods were used? Does the author favour quantitative or qualitative?
Keep thorough notes of each article so you don't forget any points.
Be careful not to become biased. Consider both sides of an argument and use the literature to balance your own work.
The conclusion is an important part of your writing. It should bring together arguments made throughout your essay rather than being a summary of information. In your term paper, this will include a summary of your argument too. Do not bring any new information into your conclusion make all of your points in the main body of your essay! Once you have made your point clear do not feel the need to drag this paragraph out any longer.
Use the information we have gathered to write up a well-informed and insightful term paper that will wow your lecturers in no time! Focus on research and a topic that interests you and with minimal effort you might even see your paper in an academic publication!
Have your term paper publication-ready in no time with our term paper guide!