What Is a Lit Review on Environment?
You will often be asked to write an environmental science lit review. This can be done as a standalone task so that you can demonstrate your understanding within a specific topic area or more commonly as part of a wider paper and piece of research. However, a lit survey is not just a simple summary of what is already known out there in your field. This is why sometimes it is best to look for a literature review writing service for support with writing yours.
If you look at a good literature review example environmental science you will see that it does not simply list out and summarize what has already been published. It seeks to explain and evaluate what is known through a synthesis of the available literature in the area. Written well it will give clear and concise information to the reader that allows them to fully understand the area you are describing.

What Is the Purpose of a Good Environmental Science Literature Review?
Whether you are writing a lit review as part of a research proposal, a thesis or as a standalone assignment the purpose will be very similar. You will be seeking to do all of the following:
To highlight high quality studies, literature, and other information that is relevant to your specific research question or topic.
To summarize and carefully evaluate the material that is available around your topic so as to provide a clear understanding of what is already known.
To highlight what the key findings are within your area.
To clearly show that any intended work or research that you will carry out is unique and has not be undertaken before.
To identify where there are any inconsistencies, contradictions or any gaps in what has already been written about.
To provide constructive analysis of the approaches and the methodologies used within other studies.
What Will Your Literature Review Environmental Science Cover?
Your environmental problems lit review will be organized in much the same way as you would write any other paper whether it is a standalone piece of work or the introduction to your own research. You will have a clear intro, a main body and then your final conclusion. The following is what you should be looking at to cover within your thesis literature review:
Introduction: this part of your review will show the importance of the topic area and explain your focus. It will offer a background and history to your topic area and introduce the main understandings and theories. For your own research it will also show clearly how it leads to your own research question.
Main body: this will usually be split up into a number of chapters or headings that will review what is currently known in your field. It should be organized to show the main themes or topics, to highlight any specific trends, and areas of disagreement.
Conclusion: this will summarize the information that is contained within your main body and highlight the significance of this information. It must clearly show any gaps, weaknesses and inconsistencies and show how this leads to your own research question.
What an Environmental Science Lit Review Is Not
Before you start your literature review in environmental sciences it will be very helpful to just summarize what your review of literature is not:
It is not simply a summary of the sources you have looked at.
It is not a look at unrelated or irrelevant sources of information.
A complete compendium of everything that has ever been said or written.
A book review or criticism of the available literature.
Steps for Conducting Your Literature Review of Environmental Issues
So now you know what your environmental science literature review is so how do you go about actually writing it? The following steps should be followed to get your lit review completed:
Identify your dissertation topics: you need a central research question that will provide you with the focus that will be required to conduct your literature review.
Define the scope of your review: decide on what areas you should be looking at. How many years back should you look, how many studies should you review, in what depth do you need to investigate.
Find sources: don't just Google the topic and hope for the best! Use a scholarly search engine, or even more than one to search around your topic area and specific question. Also search within your library not simply what you will find online. Consider not only what interests you but also what may interest others in your field.
Evaluate the sources: this is the area of the work that is going to take you the most time and will require you to carefully read and evaluate each source that you look at. You need to consider all of the following:

What are the specific areas that the researchers are investigating?
What particular methods do they use for conducting their research?
Who are the main players in your field and what have the published?
Who gets referenced and cited within other people's research?
Are there any disagreements and conflicts within what has been written?
Have theories changed over time? Have some ideas become more popular than others?
Is there anything about the studies that could have biased the results such as who has paid for the work to be done?

Organize your thoughts: highlight what are the most important theories and trends within your topic area. Look at what is agreed and what is still contested.
Create an outline: use your notes to create an outline for the literature review. A simple outline that details what will be covered within your paper will not only help you to organize your ideas and make your writing smoother it will also help you avoid rewriting later.
Write it: ensure that what you write has a clear and logical flow. Don't try to write about individual pieces of research in turn. Group together specific ideas and themes for discussion. Focus on an analysis of what has been written not to just describe what you have read.
Check all of your citations and quotations: you will want to ensure that you avoid any plagiarism issues so always take care to ensure that all citations are clear and correct and that any direct quotations are within quotation marks to identify them.
Proofread: always take great care with your writing and take the time to check it thoroughly to remove any possible issues.
50 Topic Ideas for Writing Your Environmental Review of Literature
Often finding something to write about can be one of the hardest parts of starting your research or review. The following list of 50 topic ideas will help you to find something to inspire your own work:
Is fracking having a real impact on the environment?
Is climate change legislation truly effective?
How safe is drilling offshore?
Are all alternative energy sources truly environmentally friendly?
What are the true costs of harnessing wind energy?
How can we clear up the plastic that is in our oceans?
Would government subsidies help the uptake of environmentally friendly energy sources?
How can we reduce the amount of packaging used in our everyday life?
Could the release of bioengineered mosquitoes and other insects backfire?
How to encourage ecotourism to help the environment
DOWNLOAD the PDF below to get the FULL list of topics!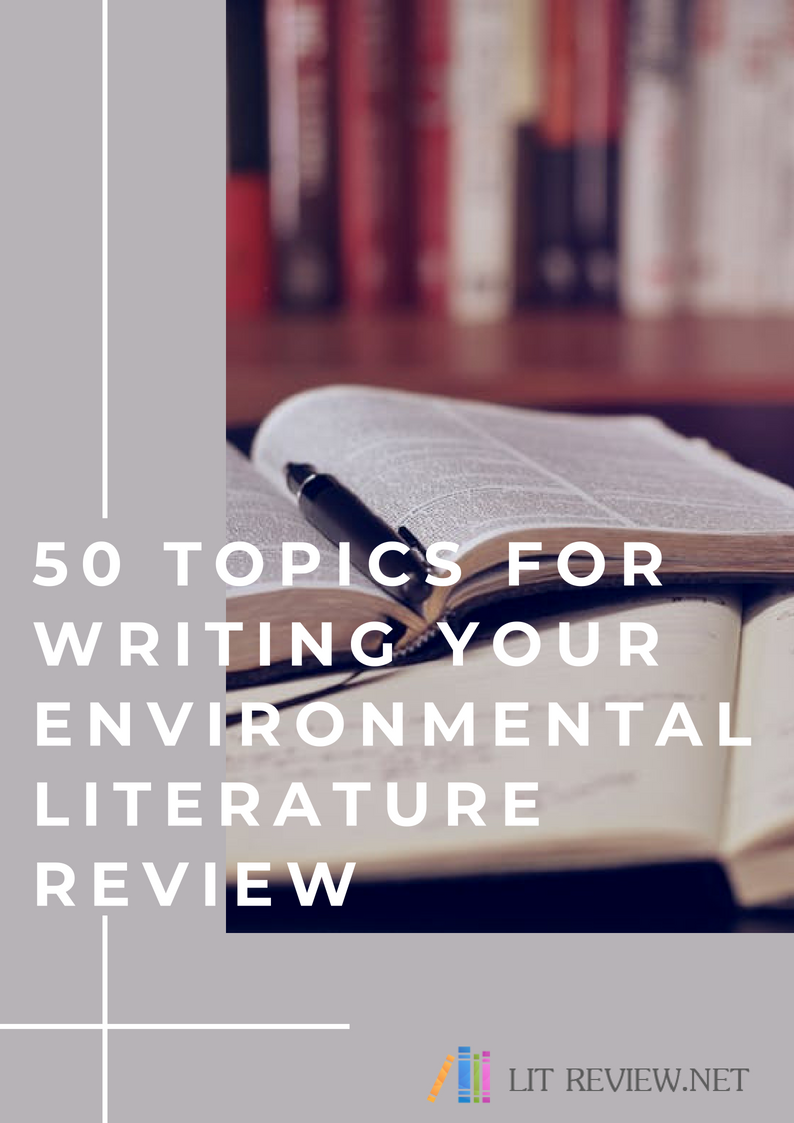 Some Questions to Ask Yourself about Your Literature Review
To help you to ensure that your literature review is well written you should ask yourself the following:
Have you selected sources that are totally relevant to your topic area?
Do the works that you have chosen support your thesis statement?
Does what you have written justify your intended research?
Does your literature review cover all of the research questions that you have posed?
Have you cited all of the sources that you have used and mentioned?
The Benefits of Selecting to Work with Us for Your Environmental Literature Review
Whether you need help selecting thesis ideas for your research, need to look at an example of literature review environmental science, or need support with your writing and editing we are here to help you. We offer a fully professional and highly effective literature review writing service that you will be hard pressed to better elsewhere. Through us you will:
Work with postgraduate degree qualified experts that will have as many as 25 years of experience with writing literature reviews.
Experts that have access to relevant and up to date research in your topic area as well as a good understanding of what is already out there.
A quick turnaround on your work: we will always get your work completed as quickly as possible and deliver your work to you within the deadline that you require.
Original work: we will never simply copy an existing review or rewrite it to fit your requirements. All research and writing is original and will be provided to you with a plagiarism report.
Error free: we conduct free proofreading on all of the services that are provided through our help to ensure that any issues are corrected.
Guaranteed satisfaction with your environmental science literature review: if we cannot offer you the quality of work that you are looking for then we will return your money.
Make your environmental science literature review stand out as excellent by engaging the support of our highly qualified and dedicated experts!