Analytical research papers require you to develop research paper questions, research and evaluate sources, use them alongside your own argument and document your work process throughout. Most importantly these papers need analysis, not just description.You have to know how to make a term paper and other writings. Using pairs such as questions & answers, hypothesis & proof, cause & effect and change over time help you ensure that your paper is analytical, not just a timeline of events.
Common Types of Research Papers
Argumentative papers: provide two sides of an issue; they must be balanced and unbiased but come to a conclusion that one argument is more valid than the other. You are expected to agree with one side over the other, which will come across in your conclusion, but the paper itself should feature both sides equally.
Analytical papers: different viewpoints should be analyzed in a factual, rather than opinionated, manner. Should include a variety of source material and information. The conclusion would include a summary and consideration of further research or study.
Definition papers: describe a topic using fact rather than opinion. Information remains unanalysed despite a wide range of sources being used – this means sources are taken at face value and credibility is usually not considered. The author's own opinions are not relevant in this type of paper.
Compare and contrast papers: often used in literature to compare authors or texts they can also be used in social sciences like philosophical frameworks or leadership styles in business. Both elements being investigated must be described concisely as the focus should be on comparison to support the author's initial hypothesis.
Cause and effect papers: consider the expected results of a policy or action. They should be logical and coherent, making them easily understandable for a reader. These papers should not only describe the expected outcome but also the range of possible results of an action.
Reports: generally used in case study situations, these should include a summary of the current situation; identify the man issue and recommendations of how to address the issue based on research. This is an objective form of writing which uses fact as well as graphs and tables to support the author's theory.
Interpretive papers: theoretical knowledge is applied to a case study; it must be based on established theoretical frameworks and use data and research to back up their argument. For example a psychological case profile in the fields of sociology or psychology.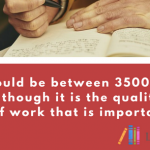 Formatting Your Research Paper
Your paper should be between 3500 and 4500 words, although it is the quality, not the quantity, of work that is important. It should be organized in numbered sections and sub-sections, all of which must be titled appropriately.
Paper title
Your name and contact information
Abstract – this should give the reader a short description of what to expect from your paper. It needn't be more than a page long.
A table of contents
Introduction
Background sections – may include justification of your work, discussion of existing work or literature surveys.
Sections presenting your work – solutions, results, observations, case studies, evaluations.
Conclusions
Bibliography
Appendices – this is not a requirement but may be necessary for code that is necessary but does not belong in the body of the paper.
Requirements for Writing Your Research Paper
Analytical papers must include:
Introduction – description of the topic, research question
Relevant research – review of past or current work
Analysis – description of data and methodology, results of analysis
Discussion – observation concerning results
Conclusions
References
All of those components must feature in your final research paper or points will be lost.
How to Make Your Analytical Research Paper
Understand the objective of your essay. You need to present an argument to analyze so the topic must be broken down and evidence provided that supports your claim.
Pick a topic. You will need to create your hypothesis and prove it with evidence so ensure you read around your topic prior to making a research question.
Begin to research. Take notes and read from as many sources as you can, this will help when you actually need to utilize this evidence but also further your knowledge of the subject, helping you piece ideas together.
Develop your hypothesis. This must be specific and two sides to an argument need to be possible.
Evidence. Get together the evidence you've been researching. Try not to make your research fit your hypothesis; it's ok to develop your research question as you go through your analytical process.
Outline and plan. Begin to structure your essay, consider your main points and put them together with supporting evidence. This will help your paper flow between paragraphs, making it easy to follow for the reader.
Get writing! Begin with the main body of your paper and come back to the introduction later. This means you will have a good idea of everything that will be in your essay so your introduction will be all-encompassing – nothing will surprise your reader having finished the introduction!
Conclusion. This doesn't need to be long but it should emphasize your argument and bring together the points you have made.
Proofread. If you can ask a friend to help, this will highlight any errors as well as ensuring your work makes sense to an outside eye.
Check your work count and conduct more research if your paper needs padding out. Make sure you are supporting your arguments with sufficient evidence to make you sound convincing.
How to Write a Literature Review for a Research Paper
A little like an editorial, a literature review demonstrates the writer's opinion on their chosen piece of literature. The literature review requires you to show skills in seeking information and analysis. They need to relate directly to your initial argument, bring together research into a summary as well as consider controversy in the piece of literature and questions brought up that need more research.
---
All you need to know about research proposal literature review is here!
---
Literature Review Format for Research Paper
Generally they contain four parts:
Introduction – Grabs the reader's attention, basic information about the piece and its author;
Summary – Brief synopsis of piece's content, this only needs a couple of paragraphs and states major points but does not go further in its analysis;
Analysis – Strengths and weaknesses, the writer is allowed more freedom to express their opinion, academic reviews such as those in their thesis should balance criticism with positive features and avoid making decisive judgments;
Conclusion – Brings together the writer's arguments and opinions on the usefulness of the piece and only needs to be very brief.
The conclusion is an important part of your writing. It should bring together arguments made throughout your essay rather than being a summary of information. Keep it concise and not too wordy, but do be clear in your argument. Do not bring any new information to your conclusion; make all of your points in the main body of your essay. Once you have made your point clear do not feel the need to drag this paragraph out any longer! Use our guide to writing your best analytical research paper yet!
Consider the information we have given you here and follow our guide to develop your skills in writing research papers. By heeding to our tips you will be on your way to creating some fascinating hypotheses and well-reasoned arguments!